HondaLink® Services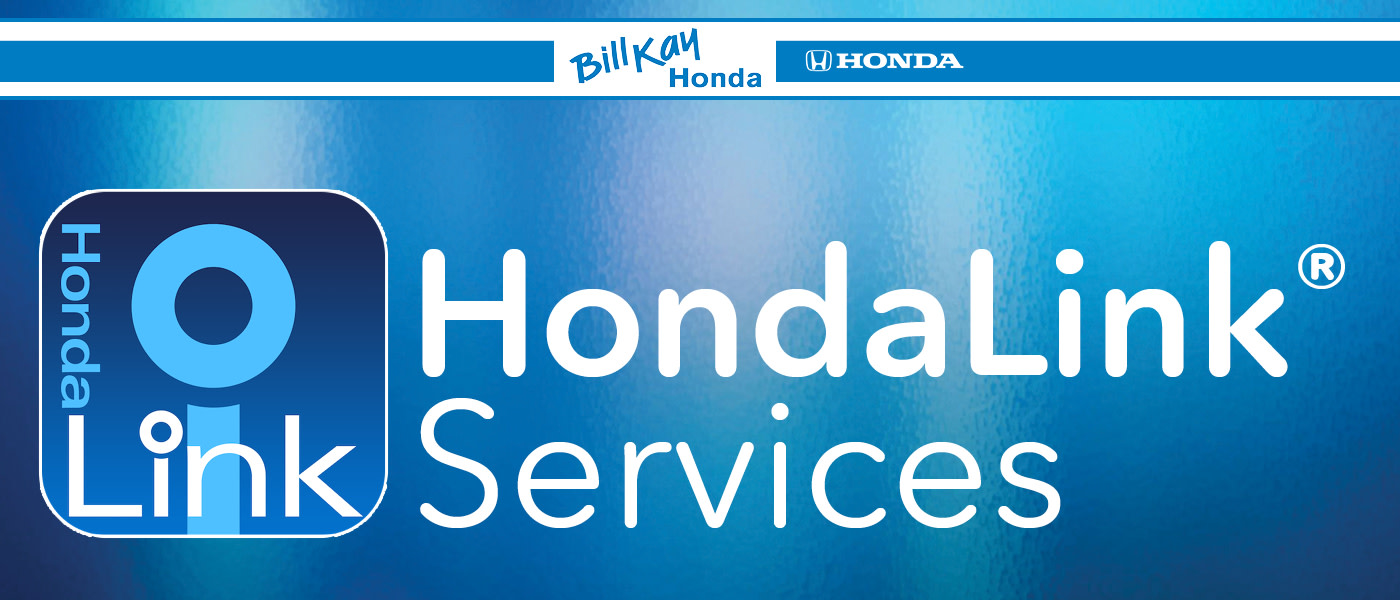 Are you intrigued by all the amenities available with HondaLink® services? Bill Kay Honda in Bourbonnais, IL, wants to provide you with the necessary research to make investing in HondaLink® services as simple as possible. In the Honda model lineup, you can find numerous models with HondaLink® services capability. If you have any questions about HondaLink® services or what it can do to elevate your daily drive, call (815) 217-2037 or contact us online and our team will be happy to help.
HondaLink® Features
When you choose to utilize the HondaLink® services, there are a number of stress-reducing features that you'll want to take advantage of. We've highlighted key factors that will ease your hectic lifestyle in the following list.
A digital owner's manual and detailed vehicle information is available at the push of a button.

Easily schedule your next service appointment with a Honda certified dealership.

When important vehicle recalls are requested, you'll immediately be made aware.

24-hour roadside service is available at the touch of a button, giving you access to help with lockouts, jumpstarts, accidents, and more.

Connect with your dashboard and have real time mileage, fuel level, and oil life readings.

Receive an instant alert when a warning light comes on or your Honda's alarm is triggered.

Search for a destination on your phone and connect the turn-by-turn navigation straight to your Honda in-car system.

Save your favorite destinations and send it to your Honda in-car system.

Easily start your car from a distance with access to remote start.
Can I Use HondaLink® with My Android or iPhone?
You can download the HondaLink® services app in the App Store for iPhone or through Google Play for Android. Once this app is downloaded and set up, you'll have complete access to the HondaLink® services available with your Honda model.
How Do I Connect My iPhone or Android to HondaLink®?
Listed below are a set of simple steps to connect your Android or iPhone to your Honda model with HondaLink® services.
Ensure your Bluetooth® settings are on in your Android or iPhone.

Press the Phone button on the HondaLink® system to start the search for pairable devices.

Pair your smartphone with HondaLink® through Bluetooth®.

Enter the passcode prompted by your phone and your new Honda.

Your Android or iPhone is now connected to HondaLink® services.
How Much Does a HondaLink® Subscription Cost?
When purchasing a brand new Honda model, you are serviced complimentary trial periods for the Peace of Mind, Convenience at a Touch, and Speak with an Expert add-ons. Some features on HondaLink® are standard, but for the added amenities, there is an extra cost. Take a closer look at what you can upgrade and when you need to do so.
Peace of Mind
Complementary 12-month trial period.
Afterwards, $89/year.
Convenience at a Touch
Complementary 3-month trial.
Afterwards, $110/year.
Speak with an Expert
Complementary 3-month trial.
Afterwards, $260/year.